You can only run long-distance together if there's trust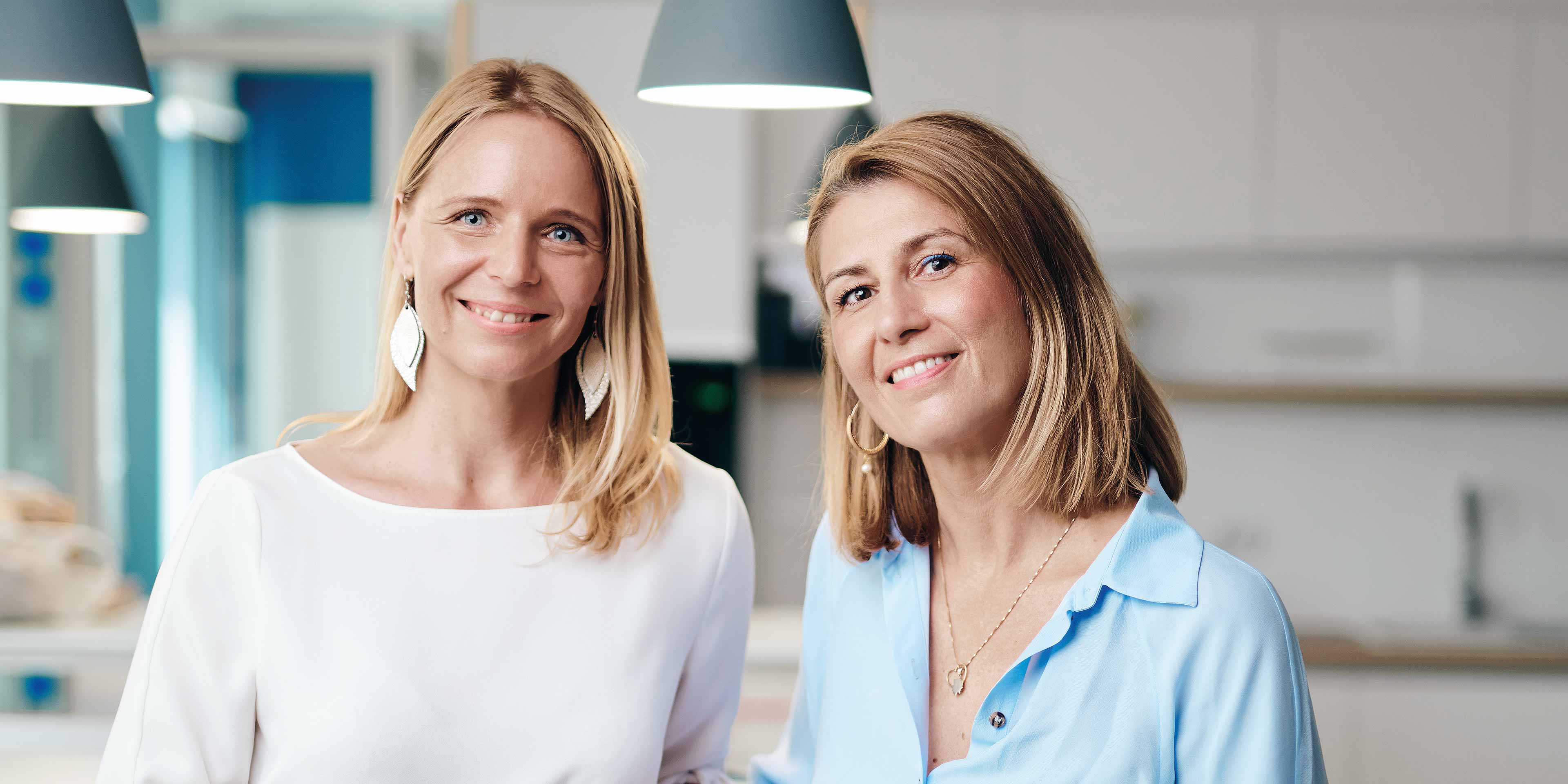 Innovatif has been taking care of the comprehensive digital experience of NIVEA, NIVEA MEN, and Labello brand users in Slovenia since 2013, and in Croatia since 2015. This long-term cooperation was discussed in a conversation between Jasna Potrata, Account Manager at Innovatif, and Nataša Lujanac, CU Adriatic Digital Manager at Beiersdorf.
Beiersdorf has been making sure we feel comfortable in our own skin since 1882. But how long have the two of you been writing a successful shared story and how did it all start?
Nataša Let me think ... it's been six years now! I remember it very well, as I'd just gotten back from maternity leave at the time. I can say that by working with Innovatif and, of course, Jasna, our work shifted to a higher, more professional level. Working with her was a breath of fresh air. Mainly because she's a real fan of NIVEA products, which is very important. She knows all our products inside out and always puts herself in the users' shoes. I think we were very lucky as this really shows in her work.
Jasna All of this is absolutely true. If you saw my bathroom shelf, you'd believe me. (laughing) Of course, I loved NIVEA products even before, but since the start of our collaboration my love for NIVEA has become even stronger. We've had the iconic blue NIVEA cream at home since my childhood, like most other Slovenian households. I really trust the brand, I use it and I can thus be its ambassador.
It's obvious that you get along famously – has the relationship evolved over the years or did you hit it off straight away?
Jasna Actually we got along before we even started working together. I'd met Nataša about two years before that. It was at a global congress in Hamburg. At the time, Innovatif was already working with the Slovenian Beiersdorf team. At breakfast, Nataša came to sit at the table where I was sitting with a colleague of hers, with whom I also get along really well, and we started talking. It felt as if we'd always known each other. Another wonderful 'NIVEA woman' in a team that was great to start with. So chemistry's been there from the beginning, but the relationship strengthened when we started working together on a daily basis.
Jasna simply understands what I want or need from her, and I can trust 100% that her result will be well thought-out and executed.
The two of you have offices in different countries, in Croatia and in Slovenia. How does communication work – via emails, calls or meetings?
Nataša Definitely a combination of all of the above, emails, calls and also face-to-face meeting, but, unfortunately, we haven't had too many of those lately. When I see an incoming call from Jasna, I always take the call no matter what time of day because I know it's something important. And I was overjoyed every time Jasna came to see us in Zagreb – those days were always too short. We've had some great discussion on all sorts of things, resulting in various wonderful ideas. Jasna simply understands what I want or need from her, and I can trust her 100% that the result will be well thought-out and executed.
Jasna Let me just add that I have Nataša on speed dial and it feels odd on days when we don't get to talk to each other. I miss our face-to-face meetings too, but I think that with the help of video calls we've somehow managed to get through these long coronavirus months.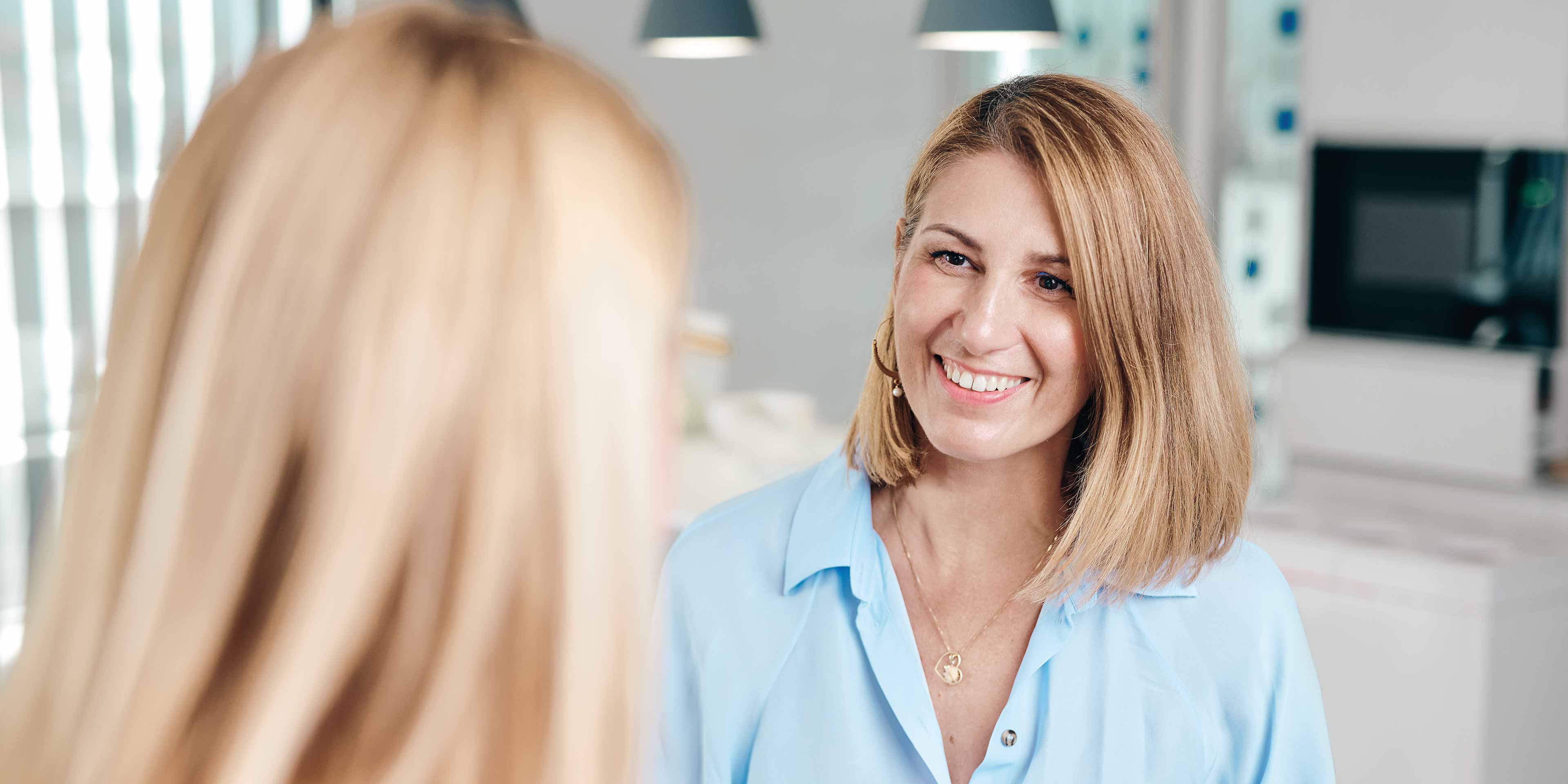 Beiersdorf and Innovatif have had some excellent results. How well do the client and the agency need to know each other for such results?
Nataša The key thing is for us to share information on which direction we want to go and what our goals are on a regular basis. That's why we always set clear KPIs at the end of the year, and we plan our activities for the next year accordingly. So it's quite easy to keep track of whether we're headed in the right direction. And in terms of the human aspect I think the two of us encourage each other to get even better. The local Beiersdorf team is relatively small and I am the digital manager of the entire CU Adriatic region. Physically I wouldn't be able to do all the work without Innovatif's excellent support. In fact, I consider Jasna to be part of the Beiersdorf team – without her expertise and familiarity with our brand and our processes, we wouldn't be able to achieve such great results.
Jasna Of course, it's important for me and Nataša to get along and to complement each other well. Even more, we must have clearly defined goals that are pursued by the whole team. The first question is always why we are doing something, and then we make suggestions, most of which are confirmed. After all these years we really know what is expected of us.
Nataša, what puts Jasna in a bad mood?
Nataša For example, when some important information is not communicated to her in time, such as when certain technical website changes or improvements that affect many work processes will be implemented. You need to know that Jasna is a perfectionist and she's really unhappy if things are done by halves or if certain agreements or deadlines are not met. And also if things are not well-thought-out, if they are done for no apparent reason. I'm more of an easy-going person, Jasna is different. I think we complement each other really well, we're simply good for each other.
Of course, it's important for me and Nataša to get along and to complement each other well. Even more, we must have clearly defined goals that are pursued by the whole team.
Jasna, what puts Nataša in a bad mood?
Jasna I can't really remember ever seeing Nataša in a bad mood. We really are very different. Everything she said about me is true and I'm very grateful to her for sometimes helping me relax and look at things from a different angle. She taught me how to be better at prioritising and picking my battles. She's great at thinking about things and processing them with a smile on her face, without complaining.
Nataša Well, that's not strictly true. But it is true that I don't want to dwell on some problems. In the past problems that seemed big at first turned out to be much less serious after we slept on them. You learn this as you get older.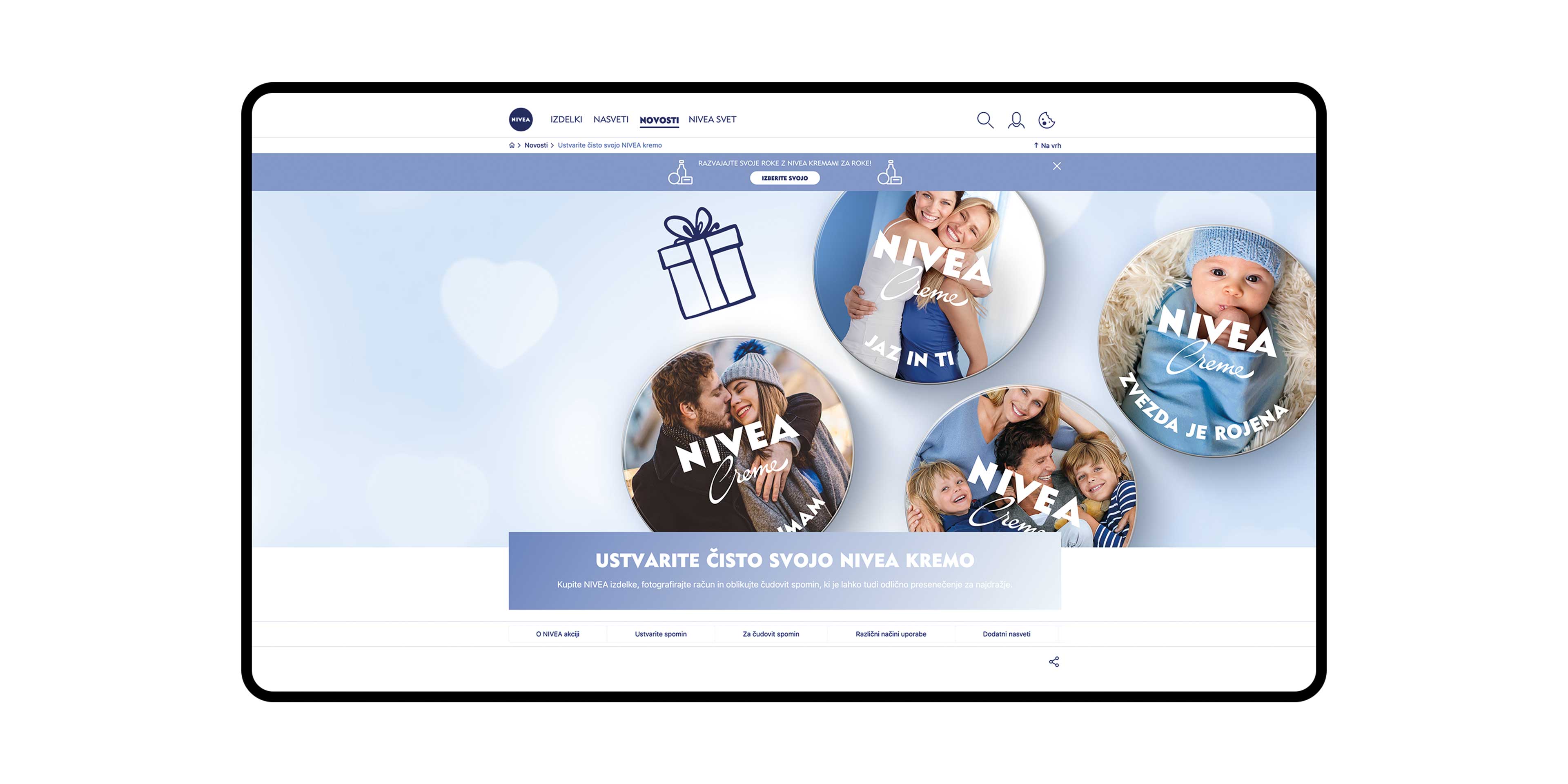 Users had the opportunity to create personalised NIVEA Crème packaging by uploading their photo on the website and adding one of the suggested captions.
You probably agree that the cornerstones of a partnership – be it a personal or a business one – include trust, respect and honesty, as well as setting boundaries?
Jasna I find it invaluable to have a client who trusts me and believes in my decisions. However, it's impossible to build such a relationship if there is no mutual trust and sincerity. You also need to be able to admit your mistakes, which isn't difficult if the other person understands you and knows how to accept them. You also need to set boundaries, both in personal and business relationships.
Nataša I absolutely agree. And with Jasna this is very easy for me, but also difficult; because of our good relationship I sometimes step out of line. And here we have to help each other. It's a classic clientagency relationship – the client always wants more, and the agency must say where the boundaries are.
What exactly does your cooperation entail – where does it all start?
Nataša To start with, Jasna and I set a media framework together and then she knows what's in store for her each month. The work runs smoothly and is actually easy. When it comes to specific campaigns, however, Jasna is in direct contact with individuals brand managers and I'm merely an observer.
Jasna Because of the way things are organised and the fact that we get all the necessary information and materials, it's all pretty simple. January is usually the most difficult month because we make plans for the whole year. In the months to follow, all we do is work accordingly and check where we are in terms of goals. After all these years, we are really well acquainted with the NIVEA brand values. We know all the special features and advantages certain products and product lines have. There's no shortage of knowledge and experiences.
But can the fact that this is a global brand that has quite strict rules and instructions be a limitation? There are many project localisations. How much room is there for creativity?
Jasna What I was referring to is that we are equipped with a huge amount of knowledge shared with us. We can compare ourselves to different markets and learn from their experiences. To answer your question, of course, creativity can be limited. But we're not particularly concerned about this as we can always find room to do something more and let our creativity run wild.
How is the work organised within the agency? Was this system already in place or has it been built over the years?
Jasna When we first started working with Beiersdorf Slovenia in 2013, we opted for the "single point of entry" strategy, which we are still using today. This means that we have a single point of entry for all the information that comes to the agency and is then distributed within the team. This method proved to be extremely effective, especially later when we took over the Croatian market in addition to the Slovenian one. The project involves a huge team which takes care of both markets, and it is very important for all
members to be informed in time.
Are the team members that take care of the NIVEA, NIVEA MEN and Labello brands always the same and how many are there?
Jasna The core of the team has always stayed the same, however, the team itself has expanded in line with the business expansion. The permanent editorial team is joined by a production team when necessary. We have 7 permanent team members, which can be extended to 12 specialists.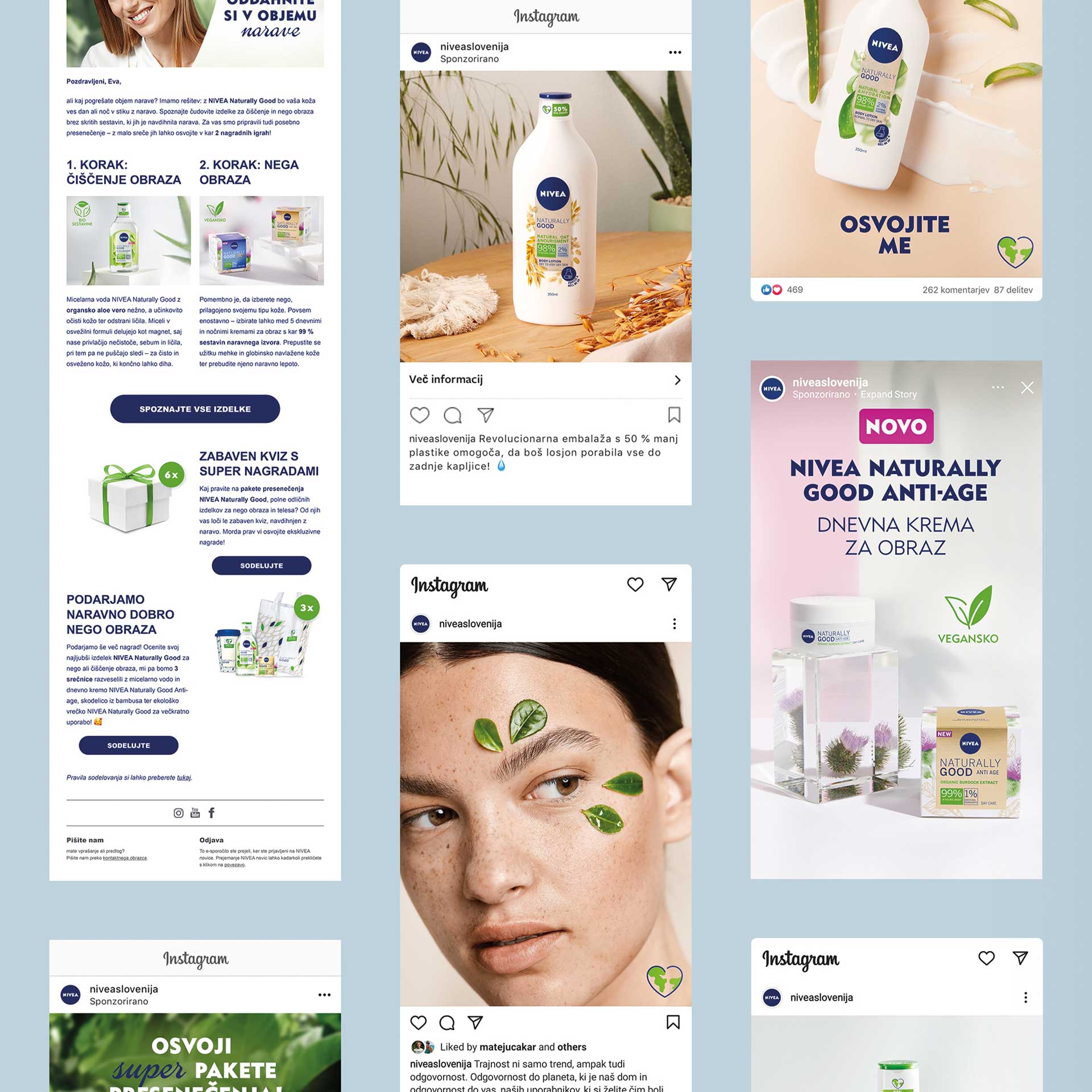 The materials are mostly prepared for the Slovenian and Croatian markets – how do the two markets differ and how does this affect the work?
Nataša There any many differences, but the two markets are also very similar. In fact, we were a bit surprised by how similar they are. As a result, many activities can be carried out in the same form for both. However, over the years, we've found that there are significant differences in how our users communicate with the brand. For example, Croatian followers are much more active on social media, there's much more interaction and comments, while Slovenian followers are more reserved. When it comes to sweepstakes, we've been noticing that comparable results can be achieved in both markets with the same approach. Interesting content and, of course, appealing prizes are the key thing. We've noticed that the NIVEA brand positioning in Croatia is stronger, which is partly due to the fact that in the past the products were produced locally.
Jasna We may have noticed small differences in our day-to-day communication with users, but we are also surprised by the big differences, e.g. in what users search for online. But we must keep in mind how big and diverse Croatia is – in Dalmatia, for example, summer lasts at least a month longer than in, let's say, Zagreb or Ljubljana, which also affects consumer shopping habits.
After all these years, we are really well acquainted with the NIVEA brand values. We know all the special features and advantages certain products and product lines have.
What joint achievements are you most proud of?
Jasna Nataša, can I? I need to mention this one event – the Beiersdorf Congress in Hamburg, when we were introduced to the new global digital marketing leader. He shook our hands and said with a big smile on his face, "Yes, of course I know you, you're the ones with incredible results!" I found this compliment wonderful. For people to know us although we are very small in a global environment, for them to know what we do and that we have great results. I am proud to say that we regularly rank near the top or at the top of the global scale in terms of achieving our goals. And I'm proud of all team members who take credit for this.
Nataša We really look forward to these results every month and they are proof we are heading in the right direction. The good results may be the reason why I'm more relaxed when it comes to making decisions. But to get back to your question, it's difficult to single out a specific project, as there have been many over the years – last year, for instance, we launched a new website and worked together during the coronavirus crisis.
Working together during the coronavirus times has proven to be extremely successful, right?
Nataša In early 2020, we found ourselves in an unknown situation. Even before receiving any official instructions from the headquarters, we changed the way we worked and set new guidelines overnight, so to speak. What makes me especially happy is that we didn't kick up dust or take advantage of the situation, and all our social media communication went fairly smoothly. Although we were all really stressed out and had to learn to work from home, which put our cooperation to the test, we made it.
Apart from the coronavirus crisis, there must have been other difficult situations over the years when you had to respond quickly and effectively?
Nataša This situation was an ordeal, no doubt about it, and everything had to be changed overnight. I don't remember ever having any other really critical situations. The reason for this is certainly the fact that we always get timely information from our headquarters about potential unpleasant situations and we're consequently well equipped with knowledge. I'm referring in particular to the social media, where something unpredictable can happen at any time. Of course, we are often faced with situations that are the result of various technical problems, but we have an efficient response system.
Jasna It seems that such situations are simply a part of life. So it is important to constantly learn new things, both the client and the agency itself, so that we can prevent any major crises. In any case, our mutual trust is of vital importance. We can solve many problems within the agency ourselves, without having to involve the client. I'm extremely happy that the universe made sure we found each other and that we can work together in this way.
And lastly, a very simple question – which brand of skin care products do you use on a daily basis?
Nataša I have to admit I love trying different products, but I always combine them with NIVEA products. I always come back to them and love recommending them to my friends. I can say I'm an excellent Nivea ambassador. And how could I not be – NIVEA is constantly surprising us with new products that I simply have to try!
Jasna As mentioned earlier, if you look around my office, and even more so my bathroom or purse, there's no doubt about my favourite brand. Maybe I'm a little addicted, what do you think, Nataša?